October 2021 Update:
The thoughts below were originally written in 2015, but most of it remains relevant to today (2021).
Facebook has made it tougher than ever to reach out to your followers for free, and penalizes sharing what it deems "promotional" links. This penalty is in the form of lower reach, meaning your post will only be shown to a small percentage of your FB followers (unless your post is paid to be boosted- discussed below).
With Facebook experiencing a major outage earlier this year and trust in the platform waning, it's tough to say what the future of Facebook will look like. It still remains one of the quickest ways to reach your audience, but what if your Facebook audience is no longer as engaged as it once was?
Email marketing is probably the second best option when it comes to marketing your contest, and we always recommend a mix of marketing mediums (email lists, Facebook, other social media, local news and radio) as the very best option to ensure that you garner as much participation as possible.
If you have run a contest with us before, you can find instructions for accessing your previous contest email list here.


This is a long one! You can find links to jump to each section below:
---
Are your posts on Facebook garnering only a handful of "likes" and shares?
If so, it's time for you to consider boosting posts (or, consider using alternate means to advertise your event, such as email lists).



A Brief History of Advertising on Facebook
Many years ago, Facebook encouraged companies and organizations to gather as many Facebook fans and "likes" to their pages as possible. The benefit was that anyone who "liked" your page would see your updates right in their personal Facebook newsfeed as soon as you posted. Have a certain dog come into your rescue that needed medical care? Post about it on Facebook and all of your thousands of followers would get the message to donate. Many organizations quickly ditched their email lists in favor for this far easier and quicker method of marketing.
In 2014, it all changed. Facebook suddenly cut back on the organic reach of company/organization Facebook posts, focusing on what they call quality content and post engagement. In other words, if you create a post that has a high number of likes, comments, or shares, then more people are likely to see it in their newsfeed. If your post doesn't have a high number of likes, comments, or shares... then it languishes, most likely only to be seen by maybe 2-5% of your Facebook audience (your audience being those who have liked your page).
This new era of Facebook marketing can be best summed up as:
You Have to Pay to Play
While posting to your Facebook page is free, we recommend that you use the "Boost Post" advertising option Facebook makes available to ensure that your contest is getting out to your entire audience.
It's easy to tell if your organic reach is down: You may have 7,000 likes on Facebook, yet the posts you make may only garner 10 or 15 likes from your audience.
This means that only 2-5% of your Facebook audience are seeing the posts you make.
UPDATE (5/2/2015):

What Sort of Posts Should I Boost?
We recommend boosting posts that entice people into entering your contest. At the very least, you should boost the very first post that you make that's announcing your contest.

Your post should include:
Why you're having the contest (raising money for a certain project, fund, medical need, etc)
Your main prize(s)
A call to action for people to enter, vote, and share your contest link
A direct link to your contest

Example post:
SHARE THIS POST!
We're excited to be holding our very first photo contest to raise funds for our spay and neuter program! The TOP 13 PHOTOS WITH THE MOST VOTES will be included in our 2015 CALENDAR, and the photo with the most votes overall will be the COVER STAR! Enter today, vote for your favorites, and share the contest link with your friends and family! https://www.gogophotocontest.com/yourcontestname


Make sure to include a cute photo or your contest banner with your post! This makes it more likely to be noticed when someone is scrolling through their newsfeed.


How Do I Boost a Post?
First, create a post that talks about your contest. Then, click "Boost Post" on the post: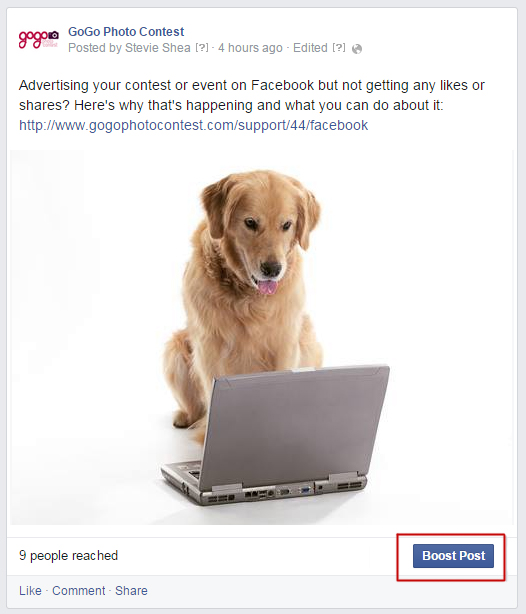 For Audience, we recommend "People who like your Page and their friends" for the broadest reach.

You can play around with the other items, such as budget, duration, then click Boost.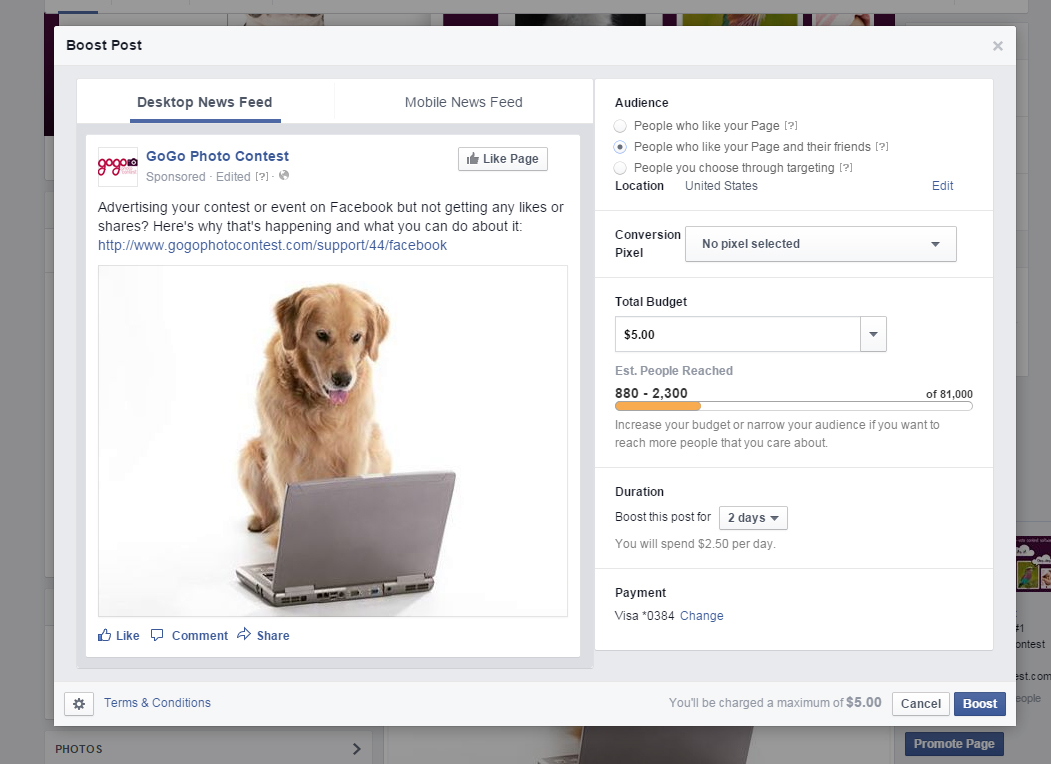 You can read more about boosting posts here: https://facebook.com/business/a/boost-a-post



How Many Posts Should I Boost?
This depends on your budget.

We recommend boosting 1-3 posts throughout the duration of your contest: a post announcing your photo contest, a post in the middle (when participation may be dropping off), and a post at the very end reminding participants that the contest is coming to a close.



But I Don't Want to Pay to Boost Posts
And that's totally fine! Here are some things you can do on Facebook to make sure that your message still gets out:
Change your Facebook cover photo to the banner for your photo contest.
Post about the contest often- if not daily, at least 2-3 times a week. Talk about the current entrants, prizes, etc (see Other Facebook Posts below).
Encourage other members of your rescue group/organization/shelter to "like" and share the posts you make about the contest. The more "likes" and shares a post has, the chances increase of your post appearing on the newsfeed of your other followers

. If you have any sponsors, encourage them to share posts you make about the contest to their Facebook pages.
You should also strongly consider email marketing, if you have any email lists. If you don't have email lists, it's time that you consider compiling one. Many organizations abandoned email as a means to reach their constituents, but in the age of boosted/promoted Facebook posts, it's perhaps time to return to this way of spreading your message.



Other Facebook Posts (Not Boosted)
Whether or not you choose to Boost posts that you make to Facebook about your contest, you should still post about your contest often. Here are some example posts that you should make during the course of your contest:
Look at our latest entry to our photo contest! https://www.gogophotocontest.com/linktoentry
Have you seen who is currently in the lead of our photo contest? https://www.gogophotocontest.com/yourcontestname
Only 4 hours left until our photo contest closes, and we're $xxxx away from our goal. Reminder: The top 13 photos with the most votes will be included in our 2015 calendar, and the photo with the most votes will be the cover star! It's not too late to enter or vote! https://www.gogophotocontest.com/yourcontestname

Here are some great examples of Facebook posts made by the Humane Society of Greater Nashua:
Final Thoughts (TL;DR version)
Boosting Facebook posts increases the reach of your post, ensuring that you're effectively reaching your audience and their friends, which should in turn increase participation in your photo contest or event.

Last note: The team at GoGo Photo Contest doesn't agree with the fact that non-profits (which are the majority of the organizations we work with) have to pay to reach their Facebook audience, but that doesn't change the reality of how Facebook now works. We hope that some day Facebook reduces advertising costs for non-profits, either by directly reducing the cost or by providing advertising grants.