We provide information for entrants who have started the entry process, but then abandoned it at some point before submitting. This information can be helpful to look at if you have an entrant that insists that they entered (did they actually complete the entry process?), or if you suspect that one of your entrants might be having a technical issue.
---
What are "In Process" entries?
Entries that are In Process have not completed the entry process. This means that the participant abandoned the entry process at before hitting "Submit".
They have not paid the entry fee (if applicable).
Since the entry is incomplete, it is automatically marked as "denied".
In Process entries will not appear on your contest site until the participant has completed the entry process, which will automatically convert it from "denied" to "approved". Participants can complete their entry any time during your contest's entry period.



How do I find "In Process" entries?
Under the "Entries" drop down is a section for In Process entries: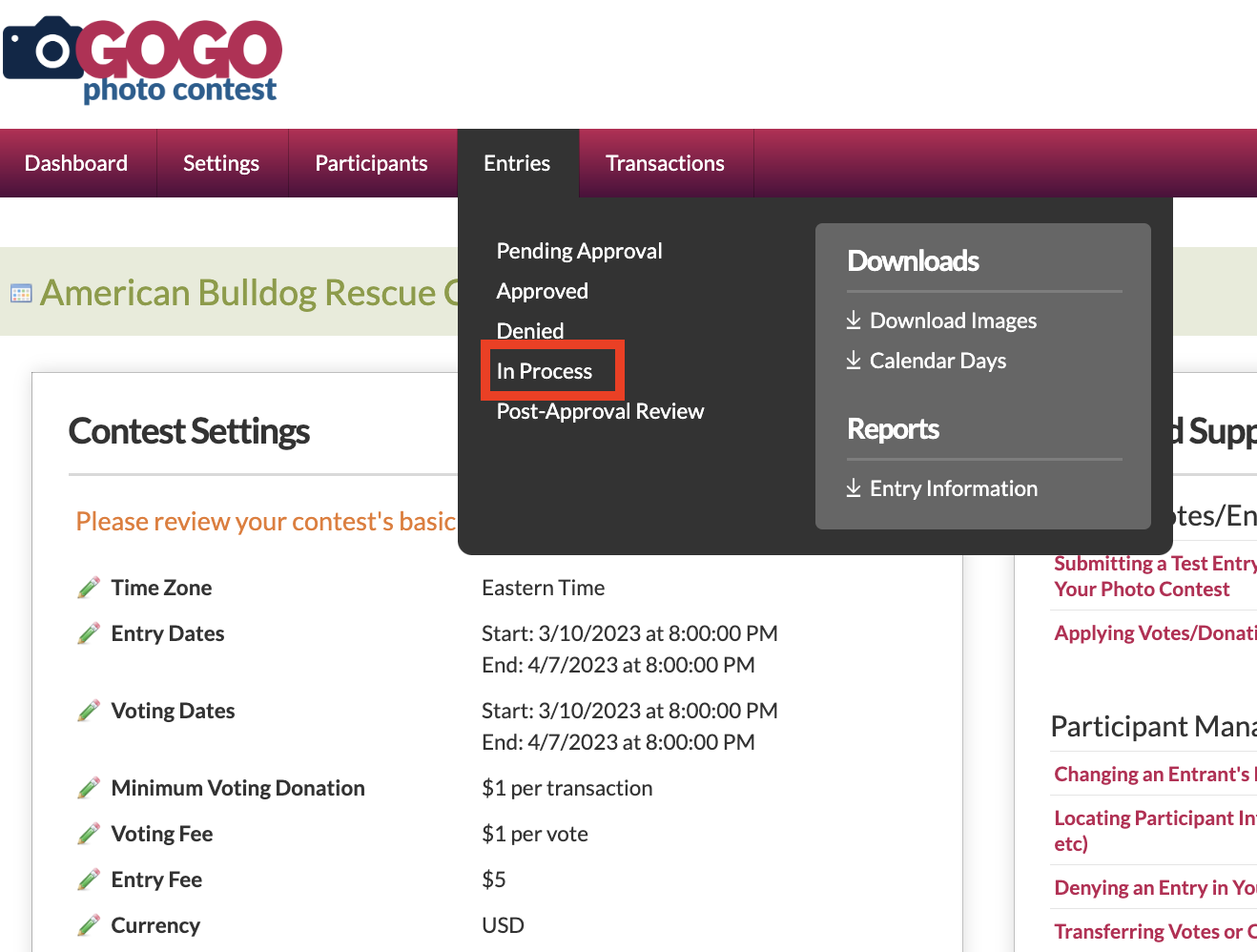 Clicking on this takes you to the Contest Entries - In Process page:
Why do I have "In Process" entries in my contest?
There can be a number of reasons why an entrant might abandon the entry process:
They want to finish their entry at a later date
The photo they want to use is on a different device, and they intend to complete their entry with the correct photo later
They realized that the contest was donate-to-vote, and didn't want to participate
They realized there was an entry fee (if applicable), and didn't have their credit card information on them
Bad network connection



What should I do about "In Process" entries?
The vast majority of contest admins choose to do nothing with this information. Having someone change their mind about participating is a natural part of running a contest. You will especially find a higher number of "In Process" entries if you are running a contest with a higher entry fee ($20+).
However, if you want to reach out to your In Process list to remind them of the entry deadline (and perhaps ask if they need any assistance with completing their entry), you can find their contact information at the report located here: In Process Entries
If you choose to reach out, you can let your participant know that the GoGo Photo Contest platform automatically saved their entry. After logging in to the contest site, they can start right where they left off.

Here's an example of an email sent by an organization to their In Process list:

[ENTRANT NAME],
This is [VOLUNTEER NAME] and I am a volunteer with the [ORGANIZATION NAME]'s Calendar Contest. I saw that you started your contest entry on [DATE] but have not completed it.
I'm just reaching out to see if you need any help with completing your entry before the contest ends on [CONTEST ENDING DATE]. You can always log in to the contest website at [CONTEST URL] and pick up right where you left off.
Please let me know if you need my help or have any questions.
⚠️ IMPORTANT: You should never manually change an In Process entry from "denied" to "approved". The system will automatically do this for you once the participant completes their entry.