Many calendar design templates allow customization of individual calendar dates or grid spaces with a photo (and sometimes even a caption).
The Reserve-A-Spot Module is available to any organization that is offering a photo calendar as part of their prize package, and is working with a print shop that allows customization of individual calendar dates or empty grid spaces.
---

Why should I offer reserved spots?
Two simple reasons:
#1 Increased calendar sales: People LOVE the idea of a tribute to their pet, whether they reserve the date they brought their pet home, their pet's birthday, or even their own birthday. This leads to more pets being included in your calendar, which is sure to increase calendar sales (since it's a safe bet that most people who reserve a spot intend to buy a calendar).
#2 It's an easy way to increase your fundraising: Each reserved spot requires a donation, so this means you could possibly hit the $5000/5% pricing threshold quicker.
Overall, using the "Reserve-a-Spot" module makes your calendar more inclusive, instead of limiting it to just those who win.



How does it work?
First, you choose if you want participants to be able to reserve calendar dates (most popular) or grid spaces (the blank spaces before and after calendar dates each month). It has to be one or the other, and can't be both.
You specify the donation amount required per calendar date or grid space (most organizations require a $10-$15 donation).
We take this information and create a Reserve-A-Spot form that look similar to this (below is a example of the calendar date option):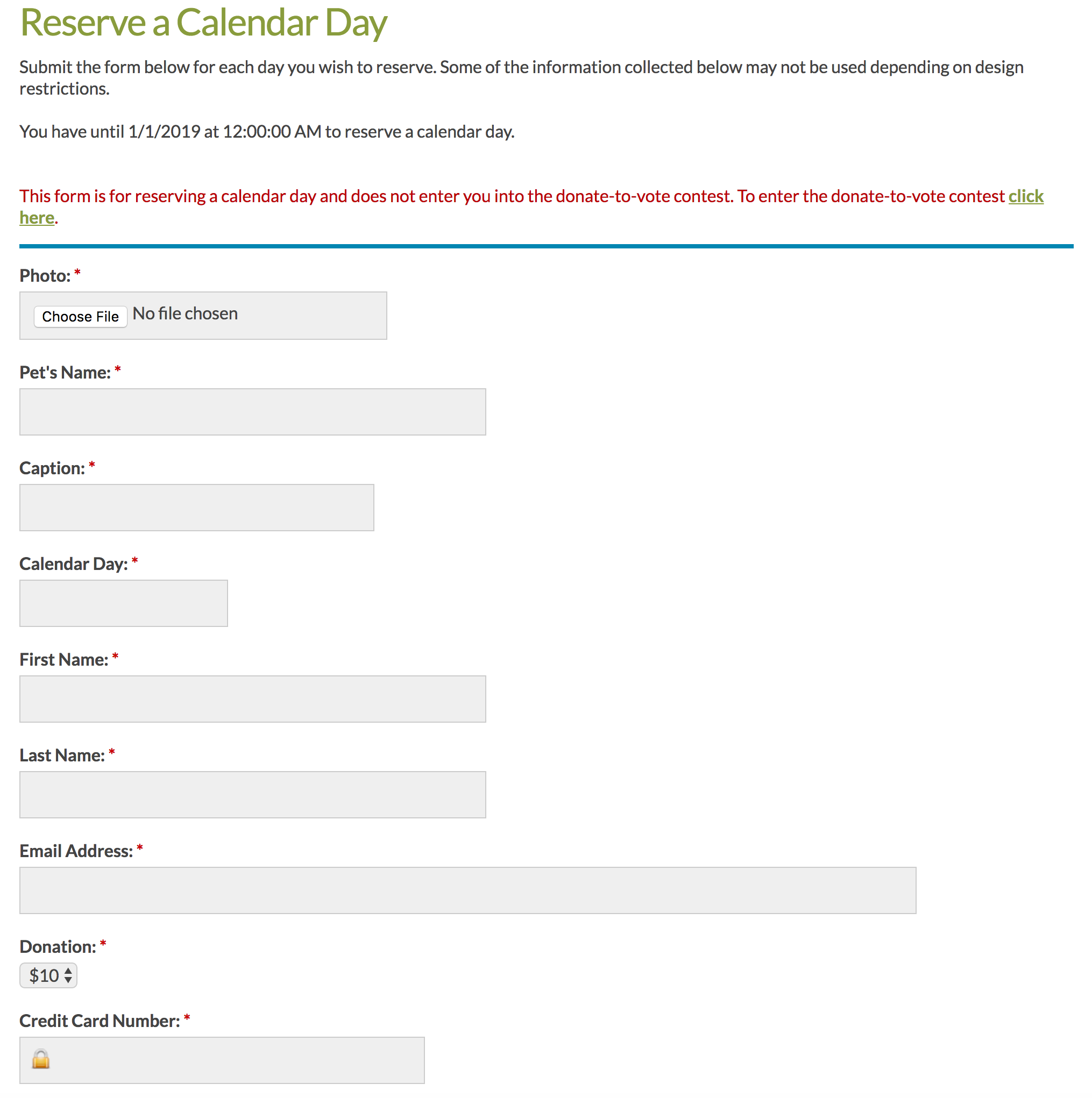 This form is available under the Participate drop-down on your contest site.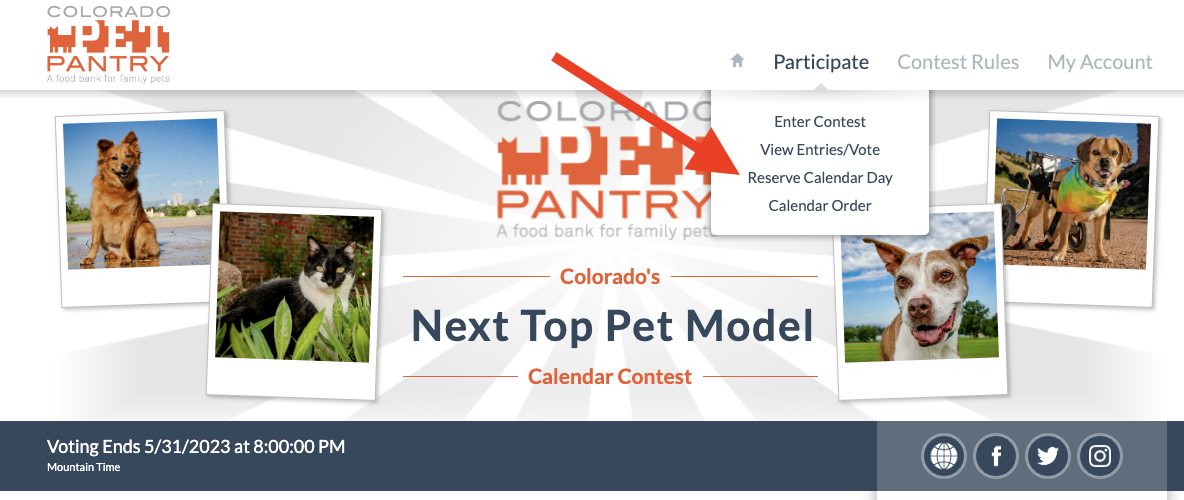 It's also located in the right-hand container on your Home page, under Recent Entries: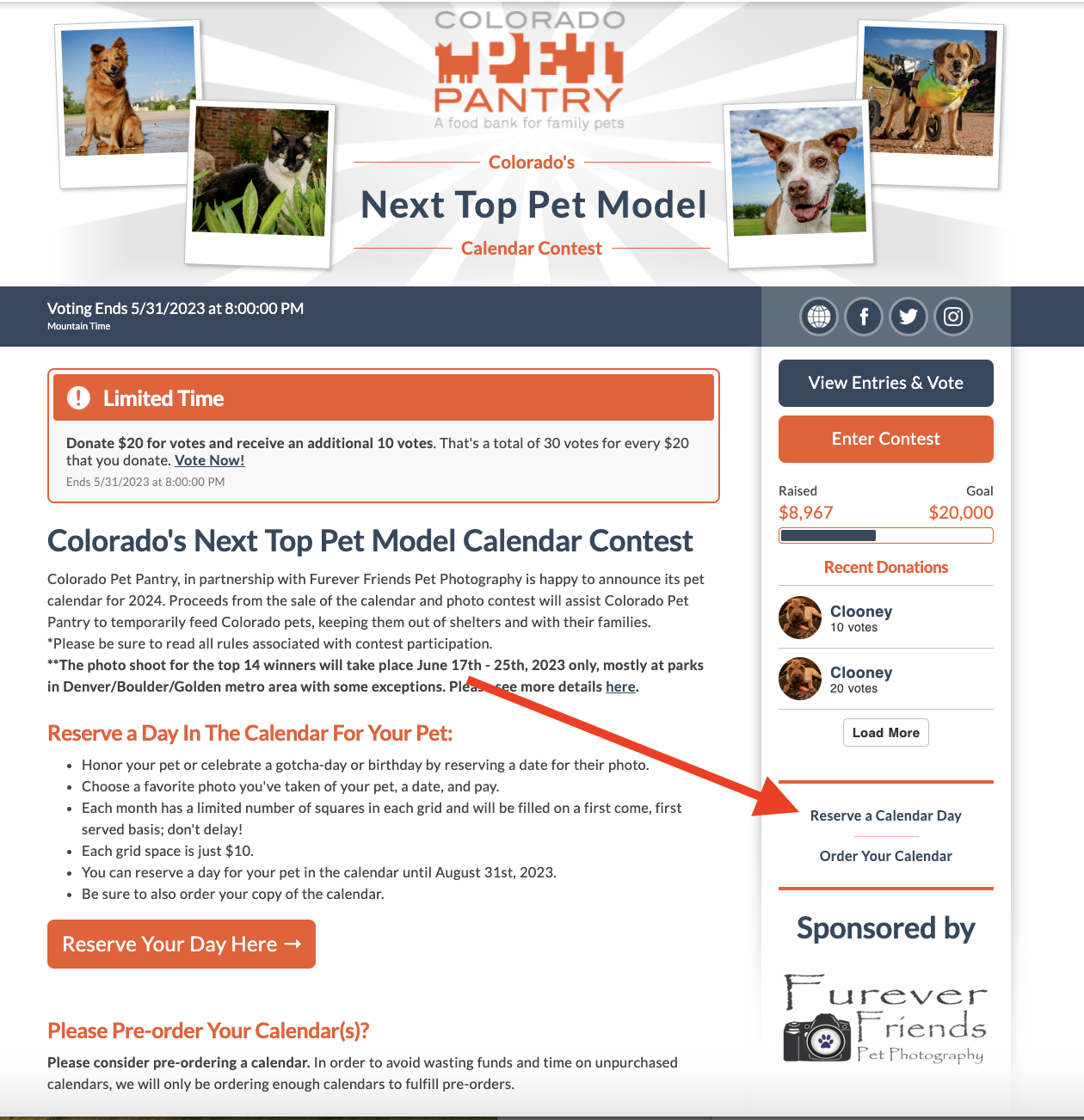 You can share the link to the form on your website and social media (Facebook, Twitter, etc). The form can remain live even after your contest has ended, for continued Reserve-A-Spot sales.
Our form automatically collects the image to be used on the calendar date or grid space, and also makes sure that only one photo can appear on each spot (once a spot is reserved, it is no longer available to be reserved by someone else).
You will have access to the information for those who have reserved a spot in the GGPC Admin under Entries> Calendar Days (private details have been blurred for this example- click to enlarge):


You can also download the images uploaded to the Reserve-A-Spot Module on this page, by clicking Download Calendar Day Images at the top of the page.



Is this module right for my photo contest?
Keep in mind that GoGo Photo Contest does not offer calendar design services, and so you would need to work with a print house or studio that allows individual calendar dates or grid spaces to be customized.
We recommend working with our friends at GBC Fundraising Calendars- they offer customized dates among a plethora of other calendar options.
Learn more about GBC Fundraising Calendars➝



How much does it cost to use this module?
It does not cost extra to use the Reserve-A-Spot Module, but the donations that come in through the module are subject to our regular GoGo Photo Contest transaction fees.
Read more about it here➝


I want to use this module- how do I advertise it on my photo contest site?
We'll place a blurb on your Home page that says one of the following, depending on whether your choose reserved dates or reserved grid spaces (this can be customized, of course):


Reserve a Day to Honor your Pet!
Want a guaranteed spot in the calendar? Reserve a day to honor your pet. Your pet's photo will appear on the day of your choice. ­Just choose your favorite photo and then choose the day and pay! First come first served! Once a date has been reserved, it will no longer be available. Each day is just $xx.
Reserve a Spot to Honor your Pet!
Honor your dog by reserving an empty grid space (before or after the numbered squares) for their photo. Submit your favorite photo, a month, and pay. Each month has a limited number of squares and each grid and will be filled on a first come, first served basis. Each grid space is just $xx