We offer two different ways to keep participants engaged throughout your contest: entry promotions and vote promotions. SPCA Serving Erie county is a real-life example of using vote promotions, and you can see the various ways they used it below.


The Organization:
SPCA Serving Erie County, the 2nd oldest humane society in the US, provides essential adoption, rescue, and other animal-related services to the residents of Erie County, NY.


The Contest: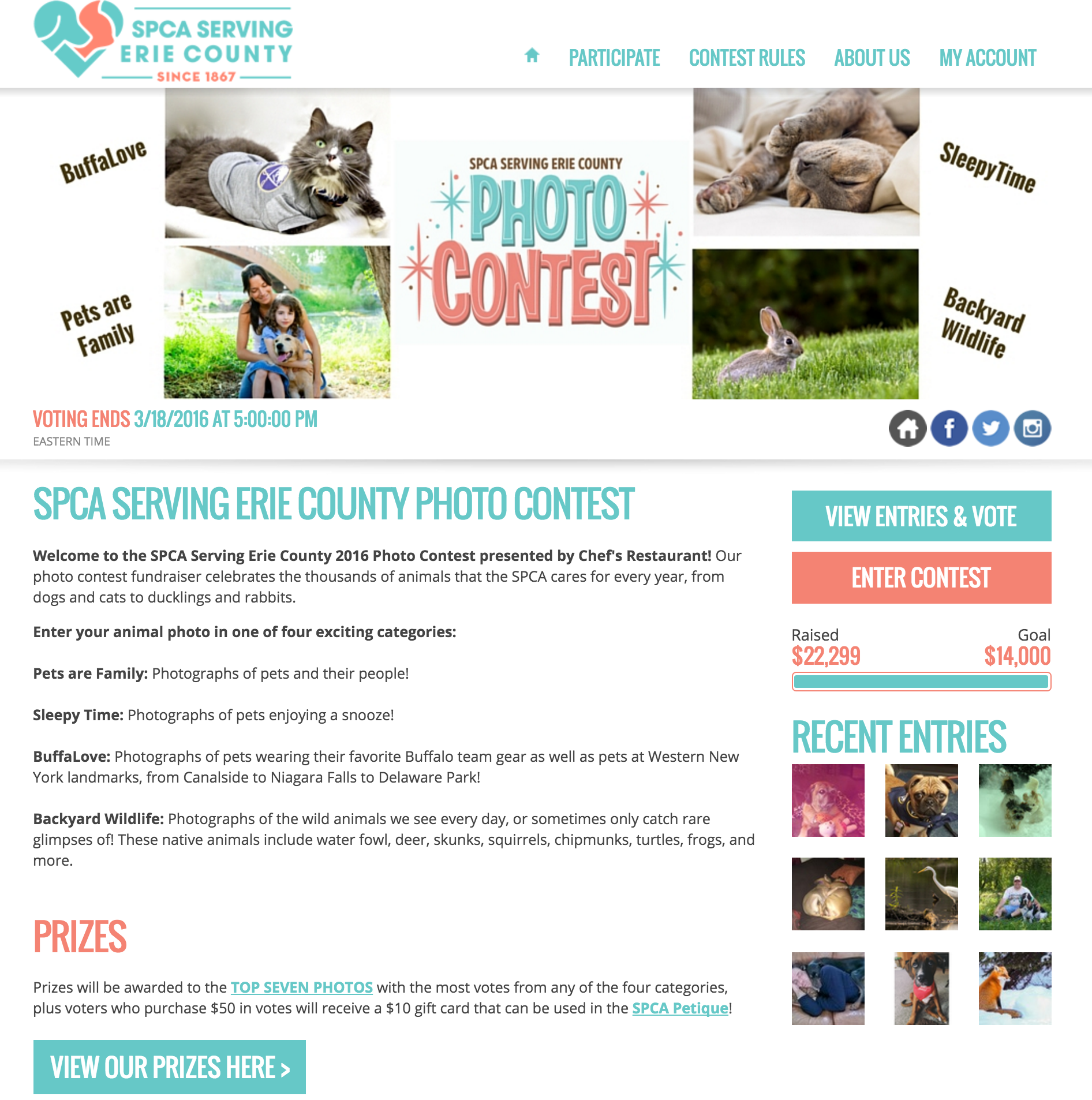 The SPCA Serving Erie County 2016 Photo Contest launched on 2/22/2016 and ran for three and a half weeks, closing on 3/18/2016.
$10 entry fee
Prizes were awarded to the top seven photos receiving the most votes. These prizes included cash prizes, photo sessions, and tickets to premiere events. Their contest did not include a calendar as a prize.
They also awarded a $10 gift card to their SPCA Petique to those who donated $50 in votes.
Raised over $22,000 (Goal was $14,000)


Vote Promotions:
Throughout their contest, SPCA Serving Erie County ran several "bonus vote" promotions to encourage voting. These promotions were:
Leap Day Promotion: Anyone donating $20 in votes on 2/29 received a 9 bonus votes.
Flash Sale: On 3/8, anyone who donated $25 in votes received an additional 25 votes in their vote bank. The "sale" ran from 9 AM to 2 PM EST.
Flash Sale: On 3/13, anyone who donated $20 in votes received 10 votes free.
St. Patrick's Day Promotion: Anyone who donated votes before 2:00 PM EST received double votes.
The vote promotional periods were advertised by SPCA Serving Erie County through email blasts, Facebook posts, and Twitter posts.


Interested in running a promotional period during your contest?
Find out more below!